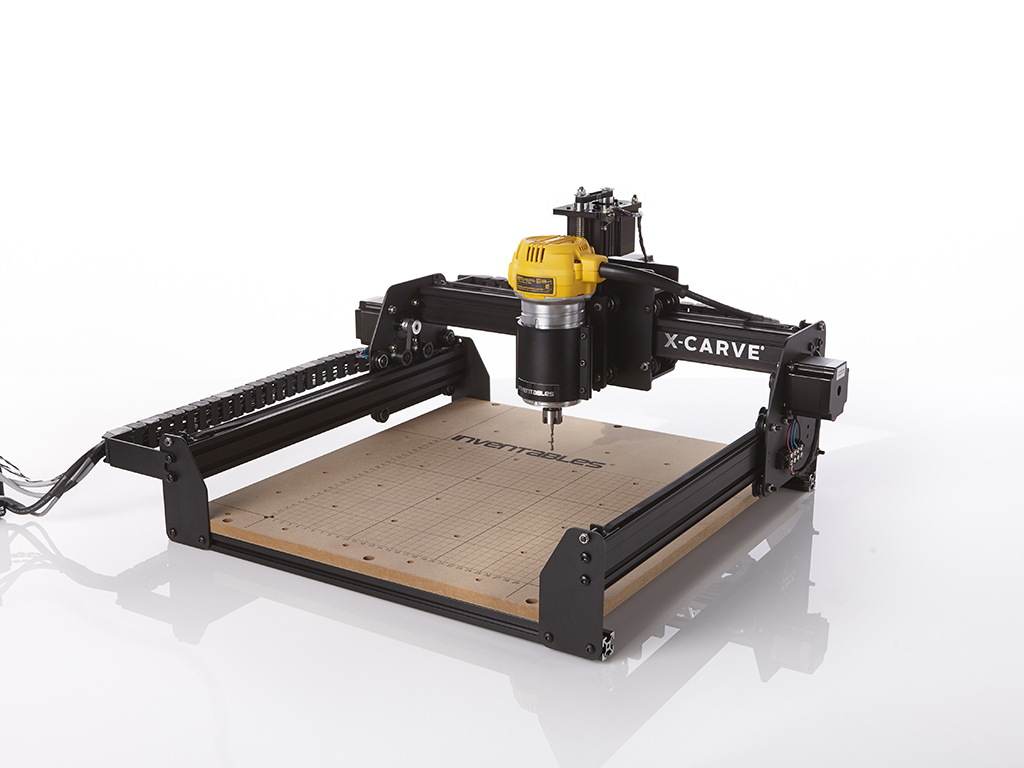 Congratulations on purchasing an X-Carve DIY 3D Carver kit! These detailed instructions will guide you through the process of building your very own desktop 3D carver.
We've divided assembly into steps corresponding to the modules of your kit. You can navigate between steps using the table of contents to the left.
Each step contains a parts list, written instructions with pictures, and a short video. We find it easiest to first collect the parts in the list, then read through the instructions, then watch the video for clarification.
The instructions are still in flux: so when in doubt, the written instructions are more accurate and up-to-date than the videos.
We recommend following the order of the table of contents during your assembly as some parts of the build are much easier to accomplish in this order.
This project can seem daunting, but after you've completed a few modules you'll see that it's really just a grown-up set of Legos. Remember to move slowly, enjoy the process and take it one step at a time.
We've provided a model of the entire machine and each sub-assembly on GrabCad. You can find it here.
Bill of Materials
Each step of the instructions begins with a bill of materials that details the components about to be used. To avoid any frustration you might have from finding out that something's missing, we've laid out the bill of materials here so you can find out now before you even get going. Click on the kits you purchased to reveal its BOM and make sure you received everything correctly. If there's anything missing please contact us here for replacements.
Shapeoko 2 Upgraders
Shapeoko 2 Upgrade Kit
Shapeoko 2 Upgrade Kit

SKU

Name
Quantity
30524-01
MakerSlide End Plate
4
30525-01
Gantry Side Plate
2
30526-01
Belt Clip
6
30534-01
Z Axis Motor Plate
1
30547-01
GT2 Belt Closed Loop, 80T
1
30545-01
X Carriage Extrusion
1
25286-21
Button Head Cap Screw M5 × 25mm
3
30552-01
Flat Head Socket Cap Screw M5 × 35mm
2
30265-04
Nylon Insert Lock Nut M5
3
26054-04
Aluminum GT2 Pulley 20T 8mm
1
26054-01
Aluminum GT2 Pulley 20T 5mm
1
26054-03
Aluminum GT2 Pulley 20T 1/4in
1
26053-01
GT2 Belting – Open Ended (feet)
12
25286-17
Button Head Cap Screw M5 × 8mm
2
When assembling your Shapeoko 2 Upgrade Kit, you will be using the original hardware from your Shapeoko 2 including the aluminum spacers. The following is a list of included hardware and the section of the instructions in which they are used:
| | | |
| --- | --- | --- |
| SKU | Name | Section of Instructions |
| 30552-01 | Flat Head Socket Cap Screw M5 × 35mmm | X Carriage |
| 25286-21 | Button Head Cap Screw M5 × 25mm | Belting |
| 30265-04 | Nylon Insert Lock Nut M5 | Belting |
| 25286-17 | Button Head Cap Screw M5 × 8mm | Z-Axis |
Next Step: X Carriage